The following letter was sent to our brothers and sisters of the CNTE (Coordinadora Nacional de Trabajadores de la Educación), as well as the US Ambassador to Mexico, the Trinational Coalition, our UFT leadership and other organizations. We invite our brothers and sisters in New York and around the world to take similar actions.
Jackson Potter from CTU (Chicago Teachers Union) has started a Go Fund Me page. The money raised will go to two representatives of the Trinational Coalition In Defense of Public Education, Arlette and Mariluz Arriaga, who will give it to the leadership of the CNTE to fund their assemblies and defense.
Please consider making a contribution here: https://www.gofundme.com/oaxacasolidarity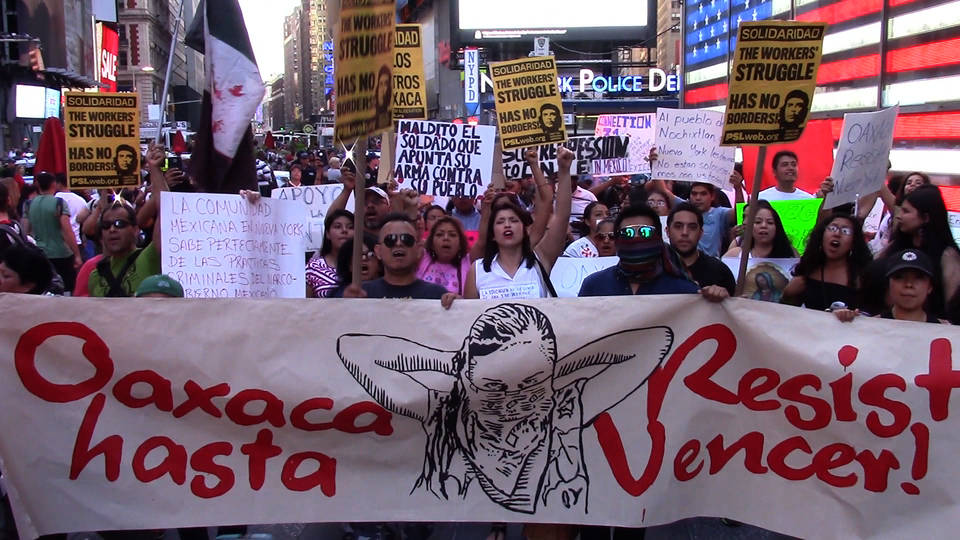 SOLIDARITY GREETINGS FROM THE MOVEMENT OF RANK & FILE EDUCATORS (MORE), the Social Justice Caucus of the United Federation of Teachers, NYC
On behalf of the members of MORE, we are writing to express our strong solidarity with the Mexican teachers affiliated with the CNTE (La Coordinadora Nacional de Trabajadores de la Educación) who have been on strike to demand their worker rights, their human rights and quality public education for their students as they protest governmental education "reforms."
The members of MORE are shocked and outraged to learn of  the arrests of seven leaders of Section 22 in Oaxaca, including Rubén Nuñez Ginés and Francisco Villalobos. We consider them to be prisoners of conscience, and call for their immediate release.
We are further horrified to learn of the extremely violent actions by the Mexican State as teachers,parents, and community supporters throughout the southern states of Mexico and in Mexico City have been attacked.  We learned with shock and great sadness  of the deaths of at least 8 unarmed educators and their supporters killed by federal police at a blockade leading into the city of Oaxaca.
This must stop!
MORE supports the statement issued by the Civil Society of Oaxaca demanding that the government do the following:
End the wrongful and disproportionate use of force and repression against the teachers who make use of their legitimate right to free expression and free protest.
Establish a round table for dialogue with the teachers of Oaxaca.
Provide medical attention for all persons injured as a result of the violent acts of the State.
Stop the criminalization of the teachers by cancelling arrest warrants against members of the teachers' union of Oaxaca. Immediately release all teachers who have been arrested in an arbitrary and illegal way.
Punish all persons responsible for arbitrary detentions, torture and other violations of Human Rights against members of the teachers' union of Oaxaca.
Our heartfelt grief and solidarity goes out to our brother and sister unionists and teachers as they continue the ongoing struggle to preserve public education for their students and families.
We stand in solidarity with you today and always.
Viva la CNTE!
MORE / UFT